Veranstaltungskalender
The Eschwege Institute and its founders Holger and Gesa have always impressed me with their integrity, skill, depth of understanding, and heart. It has been an honour and personal pleasure to be associated with their important work, and their vision to support the reintroduce of earth-based wisdom into the mainstream of the future.
Meredith Little (co-founder of Rites of Passage Inc. in 1976 and The School of Lost Borders)
The Eschwege Institute is one of the much needed watering holes in these turbulent times. I, and I know many others, will do all we can to encourage and ensure their continued work and success. The teachings of nature, rites of passage and way of council are fortunately seeded in this small village and carried from there to so many in Europe by Holger and Gesa and the many people they train.
The integrity they embody is essential for building bridges, truth-speaking, heartful listening and the waking up that is so needed in our homes, schools, communities, businesses and governments. With their devotion and commitment to the work, I have both excitement and sense of hope in this kind of new leadership for our times.
Gigi Coyle (Council trainer, social bridge builder and co-author of "The Way of Council")
Calendar of Events
Vision Quest
An ancient rite of passage for modern people
The time has come to confirm a transition and to remove yourself from your former life. Vision Quest is to leave every possible distraction behind and become empty. We will prepare you to go out alone, with no food and a bare minimum of equipment, into the heart of the wilderness, for four days and nights.
There you will live with yourself in wild solitude and surrender to the influences of the soul of nature, discovering it to be a true mirror of your self.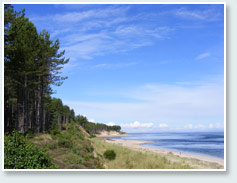 The unimportant things will fall away and your emptiness invites the Vision of the work that must be done.
In your solitude, you wander through the precincts of death, where vision lies waiting. You drink from the springs of the deepest feeling and are filled with self-recognition. What is unimportant falls away. The work that must be done lies ahead.
Vision Quest in Findhorn / Scotland
Four days of preparation in Findhorn, staying in the Findhorn Hostel with bay view and close to the dune lands. We gather daily in the Earth lodge at the heart of the Findhorn Community.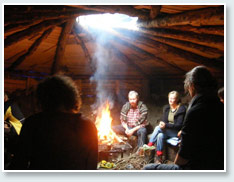 Five days out in the wilderness of the Moray Firth. We will live in the woodlands at the beaches close to Findhorn Bay. The ocean as the most ancient landscape and the home of all living things will help to reconnect with the ancient home within you.
Four of these days will be your solo fast.
The guides in the base camp will keep watch over your safety day and night.
Two days back in Findhorn, for integration of the vision into the life to which you return.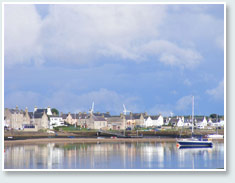 | | |
| --- | --- |
| Date: | August 03rd – 13th 2020(Beginning 3pm, completion 1pm) |
| Venue: | In Findhorn and the Moray Firth / Scotland |
| Guides: | Holger Heiten |
| Price: | per person: 870,00 €, + 275,00 € for accommodation and transport into the wilderness |
Holger Heiten
*1966, is Gestalt Therapist, Psychotherapist, internationally working Vision Quest Guide and teacher for initiatory process companionship in the Eschwege Institute and the Campus Peregrini, that was founded by him and his wife Gesa. He has trained with Steven Foster & Meredith Little in the School of Lost Borders (USA) and Verena & Haiko Nitschke (Germany).

Gesa Heiten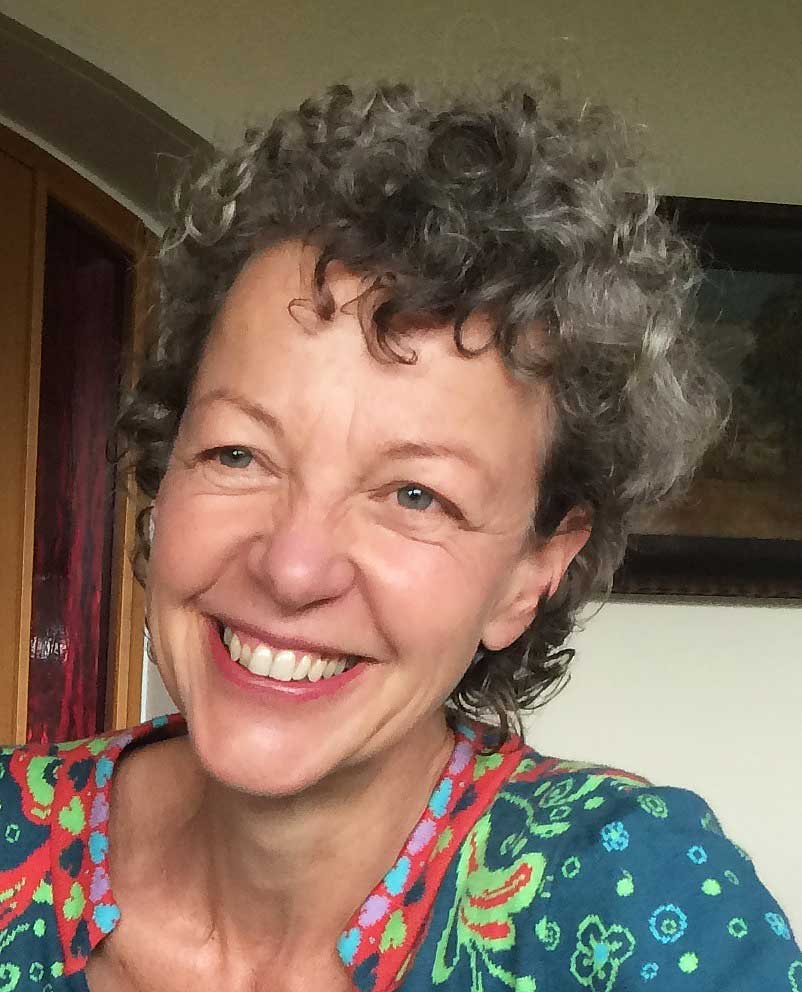 *1966; married; mother of two children; Dipl. Psychologist, trained to guide Vision Quests with the School of Lost Borders in California with Steven Foster & Meredith Little and with Verena & Haiko Nitschke in Germany. Gesa Heiten is a manager and international leadership trainer. Beside her work in the Eschwege Institute, she is a process moderator, counsellor and coach in personal and organisational development. Since 2001 she works together with her husband Holger Heiten.
The Quest
A week long initiatory process for young people
(age: 16 - 27)
Who am I?
What is calling me?
How do I get there?
Four days of preparation in our forest base camp near the Eschwege Institute,
Two days out for your solo fast in the wilderness of " the yellow mountain forest".
The guides in the base camp will keep watch over your safety day and night.
Two days, back in the Eschwege Institut, for integration of the vision into the life to which you return.
Watch a 3 minutes Youtube video about this event: https://www.youtube.com/watch?v=wVhdn7fuoPY
If you want to go your own way, you must pass through a gate, behind which you will have to leave old dependences and accommodativeness behind.
This passing is neither easy nor free of pain, but it has always been the price for the freedom, to inherit your own position and task in life.
This form of a Quest, facilitates a chance to implement the necessary disengagement of young people and their parents in a dignified and contained way.
Preparation and completion will take place in the Eschwege Institute in the geographical centre of Germany, 2 hours by car north of Frankfurt (See contact/ links for travel directions).
The Preparation and the solo fast will take place in the yellow mountain forest, which is within walking distance of the institute.
In the heart of Germany, where the German / German border use to be, there are huge oak and beech tree forests, in which a lot of rare animals survived. The European wildcat, the lynx, the black stork, the Uhu Owl, do still live there along with wild boar, deer and racoons……
Hinter den Höfen 10, 37276 Neuerode, Tel.: +49 (0)5651 951360, Fax.: 952144, Mobil.: +49 (0)172 6315620 info@campus-peregrini.de, www.campus-peregrini.de
Flesh & Spirit - Couples Council
The mystery of intimate relationship
With Shay and Galit Hanien from Haifa / Israel
What is Flesh and Spirit?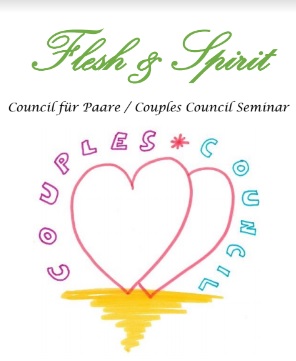 This innovative workshop is based on The Way of Council for couples. Council is a non-hierarchical form of deep communication where each person is empowered to develop and deepen their attentive listening and authentic speaking from the heart.
During the workshop, a small supportive group will create safe space for individual couples to discover the voice of their own relationship. Exploring, identifying, and playing, the dyadic work facilitates mutual and energizing sharing that has powerful potential for the short and long term health of individuals and couples. The focus of this workshop is to connect to the basic elements of the relationship, "the third" present force in any couple. This is a process by which each couple gets to share from the heart and listen sincerely while simultaneously being witnessed and supported by the group of couples.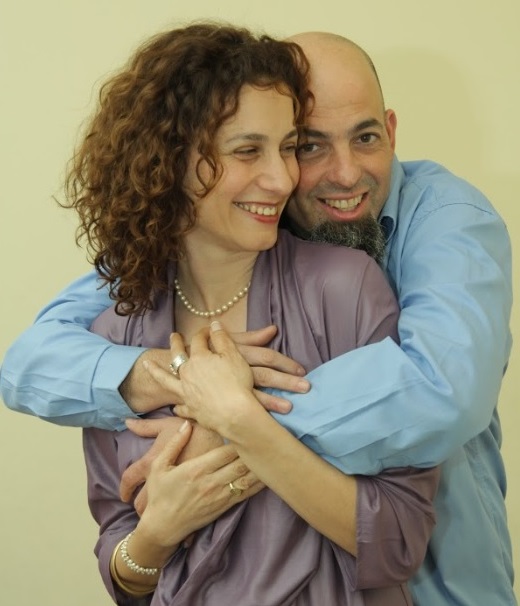 Galit and Shay, trained by Jack Zimmerman and Dr. Jacquelyn MacCandless in Flesh and Spirit, have been married and together for 24 years and have three children. They both have Masters Degrees from "Ecole Superiere de Gestion" in Paris. Galit's degree is in Human Resource Management and Shay has an MBA. For the last 15 years they are part of the leadership group of the way of council in Israel. They have facilitated, mentored and led the "Way of Council" .They are consulting and working couples in the F&S together in Israel and in different places in Europe.
Galit and Shay can be reached at: kashuv@gmail.com their website is: www.8cci.org
| | |
| --- | --- |
| Date | August 20th (4pm) – 23rd (11am) 2020 |
| Costs | 395,00 € per person, respectively 738,00 € per couple, including taxes. Food and Accommodation in cozy twin rooms will be in the guest department of the Eschwege Institut itself. Full board food and accommodation will be 63,00 € per person and night. We plan with three nights for the workshop. If you think of staying on, please let us know in advance. |
| Venue | Eschwege Institut, Hinter den Höfen 10, D-37276 Meinhard, Germany |
| Paricipants | Max. 8 couples (16 participants) |
Workshop with Meredith Little
In May 2020, Meredith Little will return to the Eschwege Institute. And it's allready fully booked.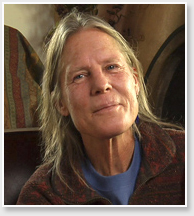 Meredith Little
Director of The Practice of Living and Dying, Lost Borders International, and Lost Borders Press. Meredith and her husband, Steven Foster, co-founded Rites of Passage Inc. in 1976 and The School of Lost Borders in 1981 – pioneering the methods and dynamics of modern pan-cultural passage rites in the wilderness, and "field eco-therapy". The essence of their work is captured in articles, chapters, an award-winning documentary film, and books that include: The Book of the Vision Quest, The Roaring of the Sacred River, The Four Shields: The Initiatory Seasons of Human Nature and Lost Borders: Coming of Age in the Wilderness. Since Steven's death in 2003, she continues both nationally and internationally to guide and train others in this work, while also founding, with Dr. Scott Eberle, a new arm of Lost Borders entitled "The Practice of Living and Dying". In this partnership she hopes to crack open the taboos surrounding death, and to help restore dying to its natural place in the cycles of living.