Veranstaltungskalender
More detailed information to the events
Vision Quest
| | |
| --- | --- |
| Date: | August 03rd – 13th 2020 |
| Guides: | Holger und Gesa Heiten |
| Price: | per person: 870,00 €, + 275,00 € for accommodation and transport into the wilderness |
| Organizer: | Campus Peregrini |
| Venue: | In Findhorn and the Moray Firth / Scotland |
Vision Quest: What for?
Life is filled with transitions, growth is characterized by change. Humans must pass from one life stage to another.
Starting from our birth, we are weaned from infancy and brought into the world of childhood. We pass from childhood into adolescence and into adulthood. If we marry, we leave the world of single adulthood behind. If we divorce, we return to the single state. We make our way through the adult passages, facing predictable crises at middle age and "retirement". With aging comes preparation for dying, and finally, the ultimate passage of death.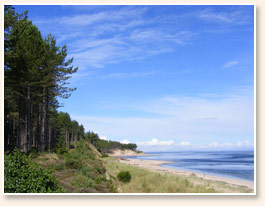 Moving to another town, changing or losing our job, becoming seriously ill, mourning the death of a loved one, all these things cause transition, bringing us into situations in which old structures no longer apply and a new structure, a new sense, hasn't yet appeared.
This is the nature of a growth-crisis. In all cultures and eras, such transitions were celebrated by rites of passage and ceremonies of initiation. Without these ceremonies, individuals could not have understood or interpreted their life experiences, nor could they have been capable of assuming the social responsibilities and privileges required by their changes in station.
Traditional life passage ceremonies are no longer part of mainstream culture in the western world. In the information-focused society of today, the wall between humans and their natural environment is growing, the basic social unit of the family is breaking down and individuals are expected to be efficient and fit. We often stumble painfully through our life passages like victims, a burden to others and ourselves.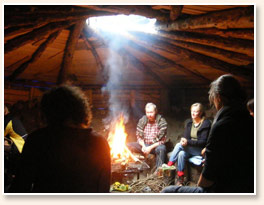 This is why people often feel ashamed, suppressing the symptoms of their crises, and with them their deeper meaning and the opportunity to heal. This is where long-term crisis comes from.
The coping strategies we are usually taught are about consumption. Particularly when we are in a phase of transition, we often feel we need something, some medicine, a new book, a car, chocolate, or drugs.
Vision Quest, offers the chance to become empty instead. You must become empty and say goodbye to the old, in order to become open to the new, to what you don't yet know about yourself. Vision Quest is a way to ask Life, what it wants to do with you, instead of carrying on thinking, about what you want to do with it.
"The Way of Council"
Council is an ancient form and modern practice whose roots are within the natural world, spanning diverse cultures and religions. Here we listen to the whole circle – the people, the place, the spirit in all, each with its own gift, story to share, piece of the whole. This practice elicits the experience of true community. How do we embrace differences, honor the young and old, and find our own voices, while opening to others and remembering all our relations? It seems more than ever an essential time, in our nation and around the world, to learn together how to listen deeply and live with open hearts and minds.
Council offers a way of communicating that encourages attentive listening, honest and compassionate expression. It makes room for new insights and understandings, wisdom in decision making, and healing. We see council, as a personal practice, a group process, and a life pathway, as essential for any individual whose work or service involves a group, staff, community, etc.
REQUIRED READING; The Way of Council by Virginia(Gigi) Coyle and Jack Zimmerman available thru Lost Borders Press, see website schooloflostborders.com.
For more information see websites: The School of Lost Borders, The Ojai Foundation, Center for Council Training, Upaya Zen Center
E-mail: gigicoyle@earthlink.net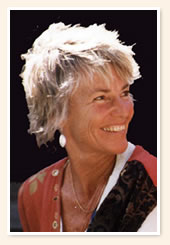 Virginia "Gigi" Coyle
Council trainer, wilderness rites of passage guide and trainer, she is a co-author of The Box and The Way of Council. Gigi helped create and oversee the Ojai Foundation, an educational retreat sanctuary for youth and adults. She has worked extensively in the areas of citizen diplomacy, community development, permaculture and interspecies communication projects, such as directing the first release of dolphins back to the wild
The book: The Way of Council
By Jack Zimmerman with Virginia Coyle, Bramble Books: Las Vegas, 1996 308 pages
Step by step exploration of the dynamics of the ancient council process. Ways of maximizing interpersonal communication in groups, from the corporation board room to the high school classroom to the elders' council in wilderness rites. Gentle, sensitive, insightful, and practical. The reader is drawn into the dramas of real life group interaction. A must for those who participate in or facilitate groups. "The council process is the most effective tool I know to capture the true strength of a diverse work force." (Chuck Winship, manager strategic programs, Xerox Corporation) "I am grateful for the care and depth with which Jack and Gigi speak about the important tradition of council in writing this book. We need to listen like the Bodhisattva Avalokiteshvara, the compassionate being who hears not only what is said but also what has been left unsaid." (Joan Halifax)